Hawk Migration Association of North America
Meet-up 2023
Tubac Hawk Watch, AZ
Join HMANA for a hawk-watching meet-up!
Date: March 16, 2023
Cost: $100 per person 
Join HMANA board member and raptor expert Bill Clark on Thursday, March 16, 2023, at the Tubac Hawk Watch in Tubac, AZ, for a HMANA Meet-Up! Mid-March is the peak of spring migration for Common Black Hawks, and this is the best place to observe them migrating in the US. In 2022, a record 497 Common Black Hawks passed over the Tubac Hawk Watch in March. A few other species that can be seen this time of year include Gray Hawk, Golden Eagle, Swainson's Hawk, and Black and Turkey Vultures. Check out Tubac HawkCount data.
HMANA Meet Ups are typically one or two-day events spent at hawk watch sites and are led by HMANA staff or board members. It's an excellent chance to get to know a new site, meet hawkwatchers and explore the surrounding area. Participants are responsible for making their own travel plans in their own vehicle and accommodation arrangements.
Meet-Up Schedule:
Participants will arrive on their own at 8:30am on Thursday and spend the morning hawkwatching with Bill Clark. Site coordinator Peter Collins will speak to the group and familiarize everyone with the migration patterns, landmarks, and history of the site. Most of the migration activity happens in the morning hours, with birds getting quite high in the afternoon, so around noon, the group will migrate to a local lunch spot and share a meal. HMANA will pay for a group lunch. After lunch, Bill will lead the group around the area (either in separate cars or carpooling) to seek out various local bird/raptor species. 
Bill Clark – Meet-up Guide & HMANA Board Member
Bill Clark is a photographer, author, researcher, and lecturer and has over 50 years experience working with birds of prey, including 5 years as Director of NWF's Raptor Information Center.  He has published numerous articles on raptor subjects; has traveled extensively world-wide studying, observing, and photographing raptors; and regularly led raptor and birding tours and workshops, both home and abroad, with Raptours, which is now being run by his colleague, Sergio Seipke.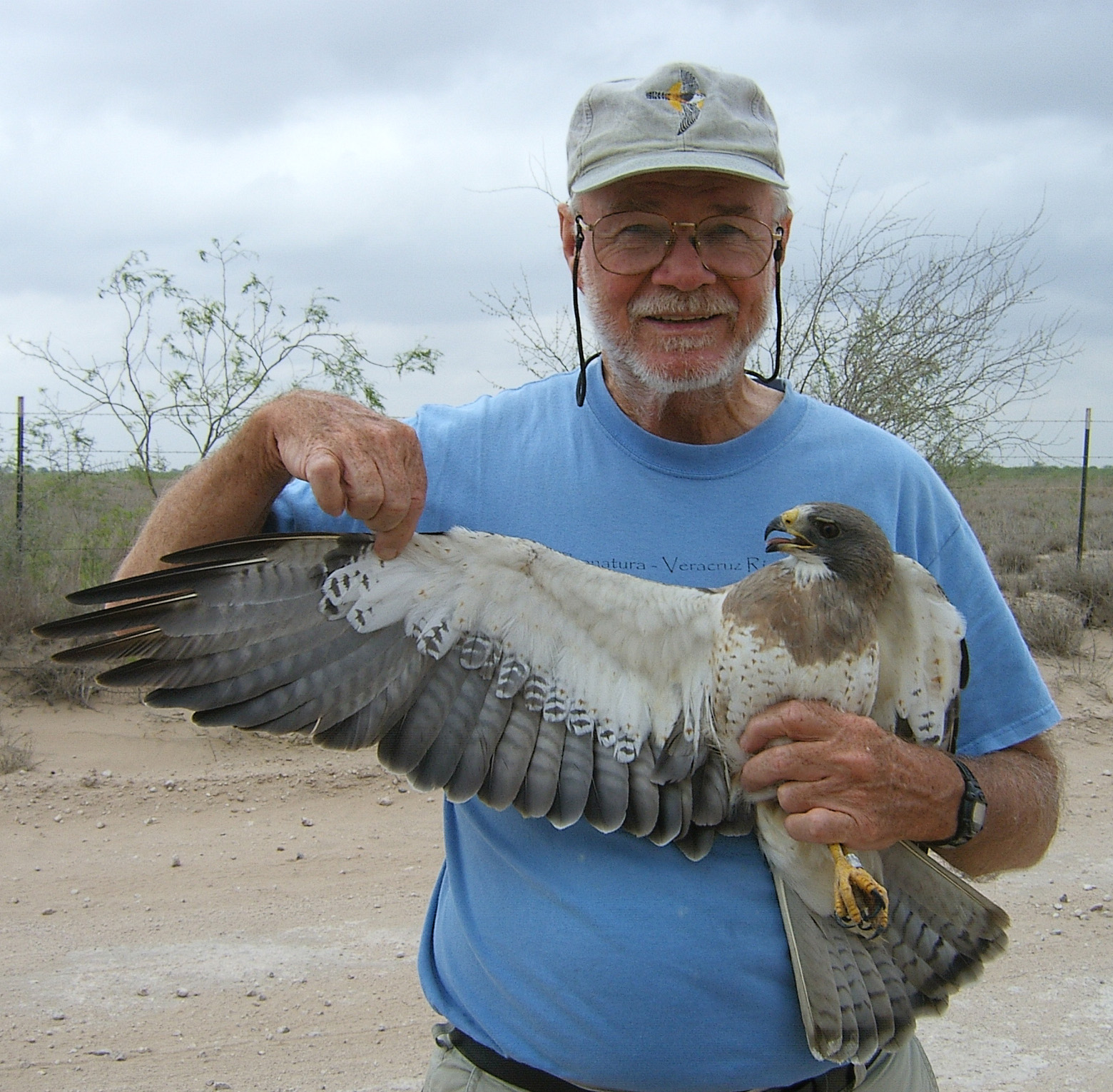 He has been living in the Rio Grande Valley since 2002. He regularly teaches evening and weekend courses on raptor field identification and biology and frequently presents lectures on raptor subjects.
Bill has written a raptor field guide for Europe, another for Mexico and Central America and yet another for Africa. He is a coauthor of the Photographic Guide to North American Raptors and the completely revised Peterson series guide, Hawks. He has on-going research projects on Harlan's Hawk, White-tailed Hawk, and Harris's Hawk. 
What to bring:
Binoculars
A folding chair
Snacks and drinks for the day
Warm layers since mornings can be quite cool
Address:
Ron Morriss County Park
31 Calle Iglesia
Tubac, AZ
(Note: With the unusual spelling of Morriss with two r's and two s's you can just enter
"Ron Morriss Park" into your favorite driving app (Waze, Apple Maps, Google Maps) and it will find the right place and directions).
Directions to the site:
-Take I19 South from Tucson
-Take exit 40 – Chavez Siding Rd
-At the end of the ramp turn left and proceed under the highway. Turn right (south) onto E Frontage Rd
-After about 2.5 miles turn left onto Bridge Rd
-At the T turn right (south).
-You'll zig zag as you drive south. Make a right onto Calle Iglesia Rd. (The bridge will be in front of you when you take this turn – do not cross the bridge). At the point where the road starts to bend right there is a small road that almost looks like a driveway that veers just slightly left of straight ahead. That is the park entrance. Drive in and you will find us – we're all the folks with the optics. The dirt road heads to the restrooms. Look for the group sitting a bit behind a dark green Tundra pickup truck. Once you turn onto Bridge Road, there are brown signs for "County Park" to help you.